Cartographica has had the ability to geocode address and coordinate data for a long time now. However, the ability to geocode using Bing is a new feature of Cartographica 1.2. Past geocoding methods in Cartographica have focused on the use of either Census Street Files (Tiger/Line Files) or coordinate data already stored in a data set.
Bing offers more up-to-date access to street and address data through live access over the internet, which provides more accurate geocoding, especially for data that were collected in recent time. Using the Bing geocoder also means access to geocoding information in a wide variety of countries where it might otherwise be difficult or expensive to get geocode base data.
For historic data, Census Street Files may be a good option, and Cartographica 1.2 maintains the ability to use Census Street Files to geocode address data via the Internal Geocoder. Besides the accuracy advantage of Bing, another advantage is that users do not need to set up the geocoder in order to geocode data. All you have to do is select Bing as the geocoder and then import the data to be geocoded. Its that simple!
Below is an example Geocoding with Bing using Fire Department Data for Washington D.C.
To Geocode using Bing, Click on Tools and then Geocoder Options

Geocoder Option Window (Select Bing Geocoder)

Select Address 1 to Match the Address Field from the data you are attempting to Geocode

Resulting Map of Geocoded Fire Stations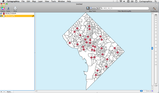 ---